The Flagship is fortunate to be located within both a world-class research university and one of America's most livable cities. The picturesque, historic campus is within walking distance of the vibrant downtown district of Austin.
The University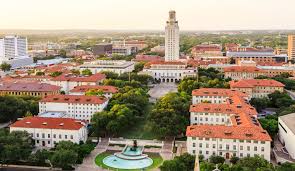 The University of Texas at Austin is one of the largest public universities in the United States. Founded in 1883, the university now occupies a 350-acre main campus with 21,000 faculty and staff, 16 colleges and schools and almost 50,000 students. Campus Profile…
The university is annually ranked among the country's very best public research universities and many of its colleges, schools and departments are considered among the finest in the nation. Rankings…
More than 8,700 bachelor's degrees are awarded annually in more than 170 fields of study and 100 majors, all of which are available to HUF students.
Get more information on UT or take a tour of campus.
Austin
A breathtaking mix of music, greenery, technology, artistic eclecticism and  old-world charm, Austin is truly a one-of-a-kind city. During their Flagship career, HUF students have the opportunity to immerse themselves in the cultural milieu that is Austin.
Known as the "Live Music Capital of the World," the city is home to spectacular events like the Austin City Limits Music Festival, South by Southwest (SXSW) and the Austin Film Festival that attract visitors from all over the world.
In addition, with companies such as Dell, IBM, Intel, Apple, Samsung and National Instruments setting up shop, Austin is a growing IT hub, à la Hyderabad and Bangalore, offering substantial career opportunities for HUF students interested in using their Hindi-Urdu fluency in the IT world.
Top 10 Things to Do in Austin