The Hindi Urdu Flagship is designed to bring students to a superior level of professional fluency in Hindi-Urdu by the end of their undergraduate studies, and to this end it recruits students with a general aptitude for language learning and a strong interest in South Asia.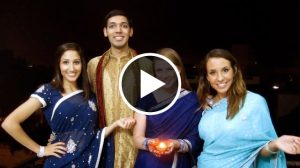 Students with no prior knowledge of Hindi-Urdu are welcome to apply — accepted applicants will participate in our innovative Foundation Year program for their first-year. If applicants wish to directly enter first-year HUF classes, they should have an approximately "intermediate" proficiency (with or without literacy) in either Hindi or Urdu. Proficiency is primarily determined by an admissions interview conducted by a HUF faculty member. Both prospective and current UT undergraduates are invited to apply.
The application for the Fall 2015 semester is currently closed. To apply to HUF, submit an online application. Please note that HUF requires a separate application from your UT application. If you have any questions about the application process or eligibility, please feel free to contact us.
Transfer Students
Students transferring to UT as undergraduates from another college or university are welcome to apply. Some of HUF's most successful students have transferred to UT specifically to join the Flagship. Transfer students should bear in mind, however, that HUF curriculum requirements may extend an undergraduate career beyond the standard four years. Interested transfers should apply to the program online. More information on transferring to UT can be found on the transfer section of the Be A Longhorn website.
Graduate Students
Graduate students should not apply to the Flagship unless interested in acquiring a second bachelor's degree.