We are delighted to announce a new funding opportunity for HUF students, made possible by the generosity of UT's College of Liberal Arts (COLA). These scholarships are awarded on a competitive basis.  All HUF students except those in their first semester of the program (whether in Foundation Year or First Year) are eligible to apply.  Scholarships are awarded in both the fall and the spring semesters. Deadlines and application for the HUF scholarship can be found on the COLA scholarships website under "departmental scholarships."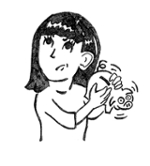 These scholarships are intended to assist and reward students who show a full commitment to pursuing the aims of the Flagship through their academic work and their engagement with the learning opportunities offered by HUF. In the selection process, the HUF team will take into account the student's academic progress in HUF, grades achieved, overall commitment and seriousness of purpose, attendance at HUF events, and service to the program.
While exact application criteria varies from semester to semester, generally applicants must address a series of short-answer questions about their overall academic record, their progress in HUF classes, and their engagement with the program as measured by attendance of special events, responsiveness to program requirements, and overall conduct. Additionally, applicants must complete a short essay in response to a prompt that will change each semester.
Remember that applications for any kind of funding should always be made with very careful attention to detail; this is a formal process and much will depend on the appearance and coherence of your submission.
If you have any questions about the application process, please contact Andrea Stanfill at astanfill@austin.utexas.edu.