Lucknow'
HUF Year in India students make national headlines
Third-year HUF students spending the year studying in India made national headlines in January for their fluency in Urdu and their passion for language study. "American Students Enamoured by the Royal Lingo," wrote the English-language daily The Hindu. English and Asian Studies major Florence Kerns, one of four HUF students currently in India, told the paper that she was "enchanted by [Urdu] poetry," and even recited a ghazal by Quli Qutb Shah for the writer.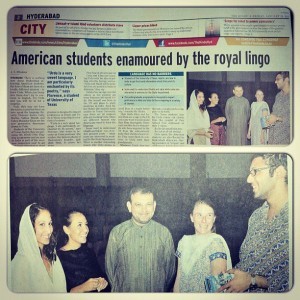 HUF student wins two prestigious awards
The Hindi Urdu Flagship is delighted to congratulate its very own Ramu Kharel for his dual accomplishment of winning both the J.J. "Jake" Pickle Citizenship Award and the George H. Mitchell Student Award for Academic Excellence.