Located in the very heart of the UT campus, the Hindi Urdu Flagship offers a unique environment in which to study Hindi and Urdu. A dedicated team of instructors, teaching assistants and administrators, augmented by the many Hindi-Urdu writers, scholars and professionals who visit us, gives HUF students unprecedented opportunities to study and use the two languages, and to develop a well-informed appreciation of the culture and society of South Asia.
Our goal is to bring students to a high level of proficiency in Hindi and Urdu, enabling them to use their language skills in diverse professional contexts. In order to achieve this, we have developed new pedagogical approaches and a new curriculum, immersing students in language much more deeply than is possible within a conventional undergraduate program. Following the Language Flagship mandate to 'create global professionals', the Hindi Urdu Flagship program is designed to develop students' linguistic skills to the highest possible level, with each student pursuing specializations of his or her choice.
Moving Beyond 'Language and Literature'
While traditional 'Language and Literature' programs focus primarily on artistic and cultural uses of language, the Flagship has the additional aim of developing linguistic skills in disciplines and areas directly relevant to students' long-term professional ambitions; thus each student is taken through an appropriately designed curriculum based on compatibility with his or her major, with close attention being paid to the individual student's development.Our students represent a wide variety of majors. Such diversity brings a broad spectrum of linguistic needs that we address through several essential approaches: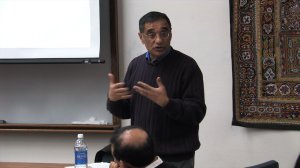 A high number of hours of language study (10-12 credit hours in both the first and second year).
Small classes, in which each student has ready access to the instructor and plays an active part in all class activities; each student's progress is carefully and continuously monitored, with additional tutorial help being offered whenever necessary.
Extensive one-on-one tutorial attention from teaching assistants outside of the classroom.
An extended period of language immersion in India, combining intensive language study with a professional internship related to individual students' majors.
Specific themes and focuses in language classes: for example — ecological and environmental issues; current world and South Asian events as reflected in the Hindi and Urdu media; the use of Hindi and Urdu in the field of medicine; 'Hinglish' and linguistic change; biographical writing portraying important figures from South Asia; social themes such as gender and class; social etiquette and conventions; the distinctions of language register used in conversation, literature, formal writing, film, and other media; and the technical lexicons relevant to the worlds of science, development, and public administration.
Opportunities to hear and engage with distinguished Hindi and Urdu writers and artists who are invited to visit UT and work with our students.
The development of innovative authentic learning and teaching materials, many being designed for self- study through such media as podcasts and web-based video.