HUF's Year in India is a collaboration between UT and the American Institute of Indian Studies (AIIS). As a consortium of American Universities that has offered language programs in India since the 1960s, AIIS has wealth of experience in teaching and administering language training for American university students. AIIS' Lucknow center serves as the base for the Year in India and AIIS Lucknow staff teach the core language courses that form the heart of the overseas curriculum.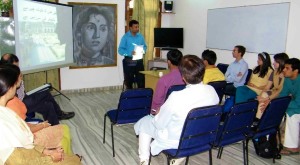 For more than four decades, AIIS language programs in India have been crucial to most U.S.-based scholars of South Asian area studies in the humanities and social science disciplines. Area experts employed in government, NGOs, and the private sector have also benefitted from their intensive, immersion-based programs. More than 3,500 students have completed language training through the Institute.
In addition, with offices and research centers in the United States and India, research centers at its campus in Gurgaon, and a centrally located office in Delhi, AIIS:
provides research fellowship support for scholars,  Ph.D candidates and artists
offers training in Indian languages where they are spoken
extends knowledge of Indian culture through its two research centers, the Center for Art & Archaeology and the Archives and Research Center for Ethnomusicology
supports book publications and articles about India
More than 6,000 scholars and creative artists have received AIIS support, with their work spanning the humanities, social sciences, social policy and natural sciences. The Institute has been directly responsible for fostering several generations of new scholars, and its senior fellows have returned to classrooms where they have taught tens of thousands of American college students.
Visit the AIIS website to find out more.