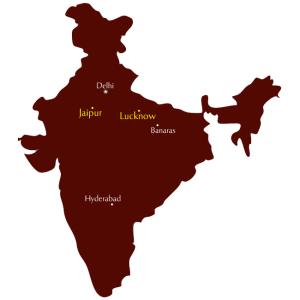 The Year in India is a crucial and exciting component of HUF's primary mission of bringing students to professional competence. It is the heart of the HUF program and is compulsory for all HUF students.
The Year in India offers a unique opportunity to become 'immersed' in Hindi and Urdu in academic, professional, cultural and domestic contexts, and complements Flagship courses already completed on the Austin campus. The organization of HUF's India curriculum mirrors the sibling relationship between Hindi and Urdu, with specific training in technical aspects of both, but also with daily exposure to the public use of the common language that some speakers will define as Hindi and others as Urdu! Students also have the opportunity to take courses for UT credit.
HUF's Year in India is a collaboration between UT and the American Institute of Indian Studies (AIIS), which is a consortium of American Universities that has offered language programs in India since the 1960s. Students receive language training from experienced AIIS teachers while enjoying the benefits derived from AIIS's many years of organizing 'study abroad' programs for American students. A HUF program coordinator is onsite in India to assist students and to facilitate their academic and cultural activities, working closely with the HUF team in Austin. The AIIS offices, HUF, and UT-Austin's International Office provide a network of organizational support.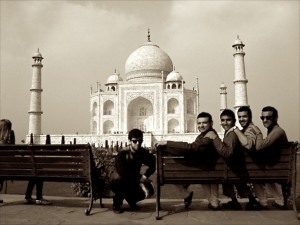 The fall semester of the program is based at the AIIS center for Hindi in Jaipur, Rajasthan — a fascinating city that epitomizes modern India's distinct amalgam of explosive economic growth and long-standing cultural traditions. The second semester of the program is based at the AIIS center for Urdu in Lucknow. As the capital city of Uttar Pradesh (a state whose population of over 170 million dwarfs all but five or six countries in the world), Lucknow has a diverse and vibrant culture offering excellent opportunities for students to engage with the living language. Students also spend time visiting other cities within the Hindi and Urdu region. While focusing on standard Hindi and Urdu, students will encounter some regional dialects of both, giving an appreciation of the multifaceted character of the linguistic culture of Northern India.
Please review the UT Risk Notification and Liability Disclaimer here.
Watch the directors of our Jaipur and Lucknow programs introduce HUF's Year in India: